There has been a big discussion of teacher workload recently. Harry Fletcher-Wood's post on "Thin Red Lines" generated quite a bit of interest. Nicky Morgan (or was it Nick Clegg) at the DfE attempted to win back a few of the half-million voting teachers that polling suggested Michael Gove had pissed off, by initiating a workload consultation (the results of which are meaningless twaddle). Now Mary Bousted's ATL conference speech (using possibly dubious figures) has suggested that 40% of teachers are bailing either at the end of training or by the end of their NQT year, and the Independent have had a couple of front page headlines this week following up on this. Debra Kidd's recent post is a particularly personal tragedy.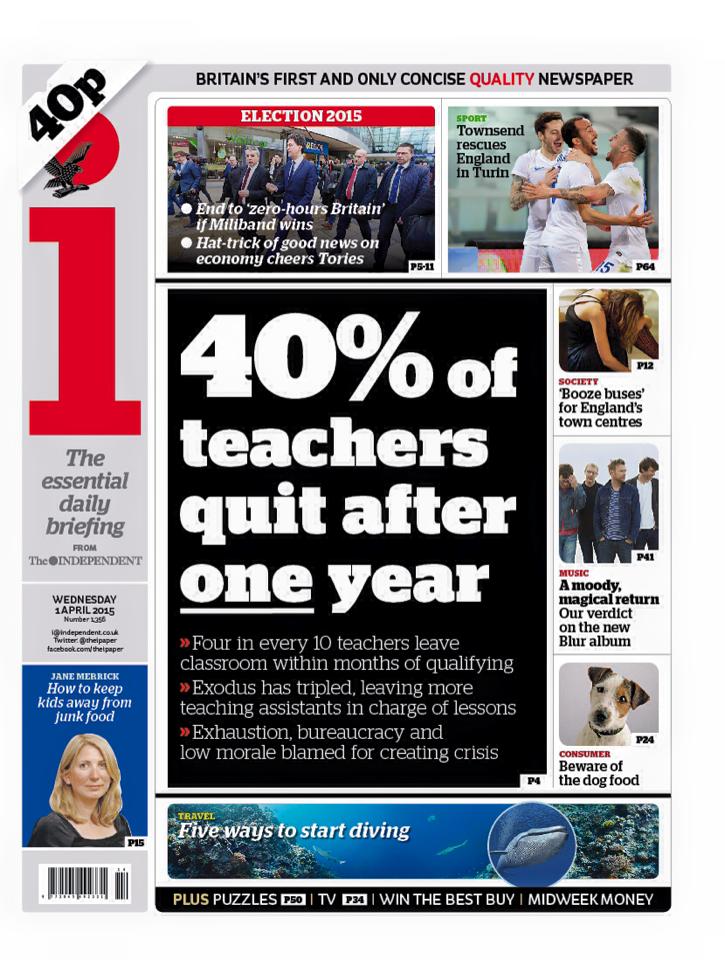 Now, the majority of our trainee teachers go on from our Secondary Science PGCE to their NQT year. Last year out of 30ish qualifying, three went off to do PhDs, and all the rest went into teaching. It's always a bit tricky to keep tabs on the whole cohort but as far as I know, all but one are still teaching. Whether we'll lose any at the end of their NQT year I don't know but I don't think it will be many. On the other hand I certainly do know that many of them are completely knackered.
I think the fundamental problem runs very deep. There have been numerous attempts to reduce 'bureaucracy' in teaching, and considerable work recently by Ofsted to try to convince headteachers that there is no particular expectation regarding planning, marking etc. but to some extent this misses the fundamental point. There will be times when certain practices are not productive but it is generally true that, for as long as it can be sustained, teachers doing more is likely to lead to (at least slightly) better outcomes for children.
Extending the school day; very regular deep marking; planning for effective assessment; careful tracking to identify underperformance; setting, chasing up, and marking more homework; rigorously checking when pupils have been absent and making sure they have caught up; communicating with parents more often and more fully; even more detailed planning of SoW; greater extra-curricular provision and more trips; etc.
All these things are probably of some benefit to children in terms of academic performance. The idea that there are a whole raft of things that can be cut without affecting outcomes is, I think, a fallacy. It's possible that cutting some of these things and 'just' teaching better would lead to improvements but I think it would take years to see any benefit in outcomes. So there is a very big and hard bullet to bite.
I think that cutting teacher workload can only be done by accepting that academic performance will fall across the board, at least in the short term. It will involve some Y11 who might have squeaked a C getting a D. It will require Ofsted to lower their expectations for all pupils to be making sustained progress over time. It will mean that less work gets marked by the teacher. It will require an acceptance that good teaching is not only the minimum expectation for children but also the maximum. Teachers have to plan decent lessons, and they have to follow up on behaviour, because not doing these two things just makes teaching a miserable experience. After that it will need headteachers to support teachers and departments when they get to a certain number of hours in a week and just STOP!
Having said all that, there is one genuinely unneccesary thing that could be eliminated and that is wholesale curriculum and assessment change. I'm losing count of the number of science departments we have trainee teachers in where there is at least one year group without a proper SoW. Every department should be where the Michaela School is at with their Y7 curriculum but for schools that are not starting from scratch and have 5 or 7 year groups to cover, it would be madness to try and do this in the knowledge that by the time the job is finished it will need doing all over again. I can understand the wish to change the curriculum – if I was starting from scratch I would take the science NC and halve the breadth so that teachers were free to increase the depth and children could master one topic before having to plough on to the next – but where is the evidence that fiddling with the National Curriculum improves children's understanding of a subject? And how can anyone really appreciate the way a carefully thought-through curriculum change translates to hours, and hours, and hours of teacher-time across the country. What does half-a-million teachers even look like?
The only other way to reduce teacher workload is to have more teachers. It's a decision for society to make – if people want to maintain the very high levels of work going into children's education, then they will have to persuade politicians that a policy of significantly increased funding for schools and colleges is a vote winner (and it will need to be a big increase, given the current recruitment crisis). Maybe a first, politically easier, step would be to reduce NQTs and NQT+1 timetables a bit but, although this will help teachers to get established before they collapse, it won't help teachers to last 45 years. If the cost of this is too great then somehow the teaching profession need to find a way to take a massive and absolutely united and collective step back. Until teachers' working hours are given a higher priority than everything else, the workload problem will not be resolved.
My hope would be that, in the long term, making a full-time teaching job a happier and more sustainable business will lead to better quality teaching with both new and experienced teachers genuinely continuing to develop their practice throughout long and enjoyable careers so that the thing will come full circle and it will be a more desirable job, with greater competition for ITT places, and a higher status as a profession. One can but hope!